The aesthetic value of a website is very important because when a user visits a site the first thing he will notice is how your site looks. It can change the whole experience of the user. If the user has a good experience then there is a chance that he will visit again.
As like as aesthetic value, there are also some points you need to know when you are setting up your blog. Points like the template you are using are SEO friendly and SEO optimized or not. If the theme you are using is not SEO friendly then the search engine crawler will have some delay when analyzing your page. This could affect your page ranking.
I think there is another one factor to keep in mind when changing your template, checking is the theme you are going to use is mobile-friendly or not. For some people, it's not a great deal. But for me, a good amount of my total traffic comes from mobile devices.
If you are a new blogger who does not have money to buy an amazing template that suits you, then here are the 10 I think most impressive, professional, SEO optimized templates which you can choose.
Those templates are free to use but you have to give credit to their developers at the bottom. I think it's ok because they are doing a really hard job making those templates. Also, I have to note if you don't want to full control of those then you can always buy it.
Here are the 10 impressive blogger themes for 2021
#1. Download Bright Mag
Bright Mag is a beautiful and well-designed template. It has 3 ad section which supports responsive ads. This theme is created by BThemez and it's Adsense ready template, you just need to do some customization and you are ready to go.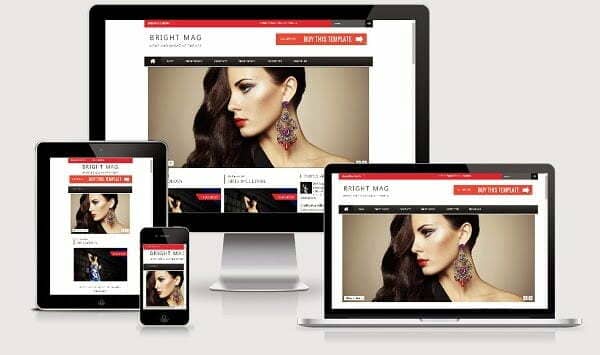 #2. Download Clean
Clean is one of the fastest templates which load quickly among the other 10 templates. As the name suggests clean template has a clean professional-looking design. It can be your choice if your niche is about magazine, news, or personal blog. This theme is created by ThemeXpose.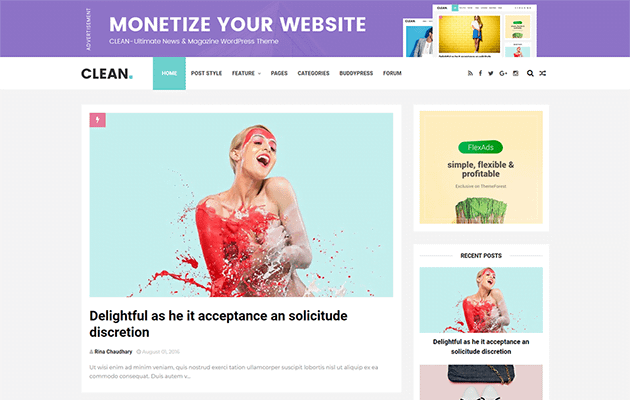 #3. Download PaperMag
PaperMag is a new theme created by TemplatesYard, loaded with the latest google fonts and font awesome which makes it compatible with every new browser's version. It's a stylish template based on color combinations of white, black, and yellow. This template is perfectly suited for blogs like a review, food, makeup, travel, tech, personal, photography, etc.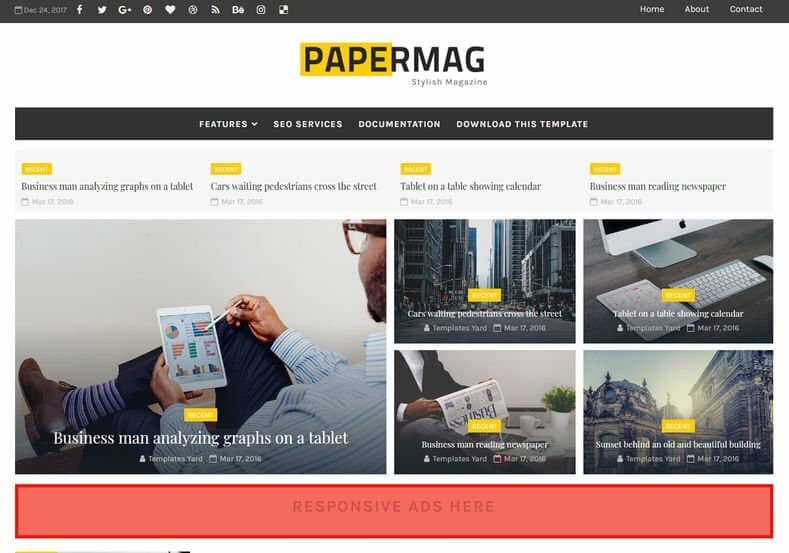 #4. Download Sauna
Sauna is another great theme created by BThemez. It will be a nice choice for you if you upload blogs related to photography or videos. It uses the same Masonry grid technology used by Pinterest.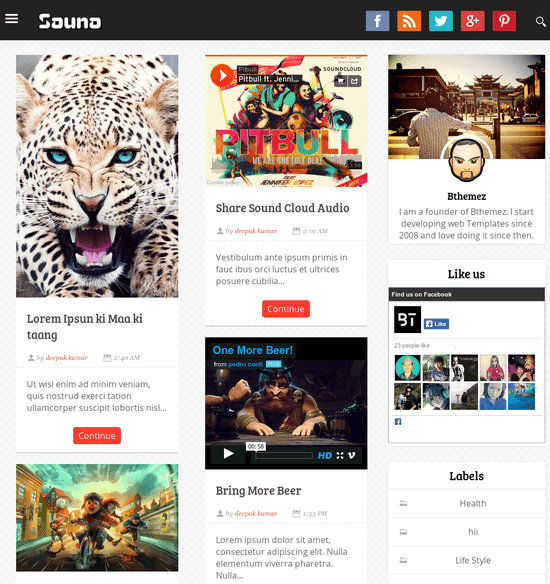 #5. Download Rosemary
If you are searching for a Minimalist template then you should go for the Rosemary template. It's well-crafted thinking about small things, to give your viewer an amazing experience. If you are a creative blogger or running a small magazine this can be your perfect template. They also included any widget you will need like Instagram or Pinterest widget. This template is designed by ThemeExpose.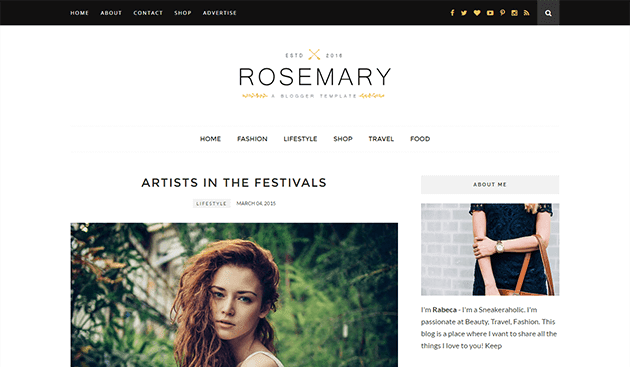 #6. Download G Vusion 2
G Vusion 2 is a classic and beautiful template by getanytemplate. It's a fully mobile optimized and SEO-ready template that comes with a number of social widgets. It's a beautifully designed template with Elegant Footer which divided into two columns.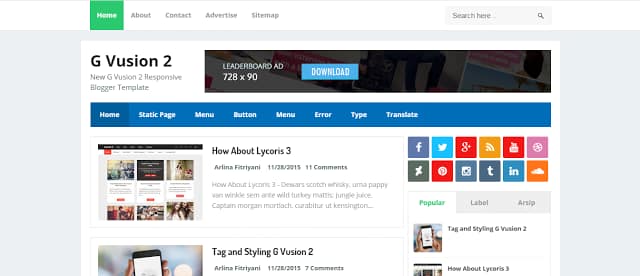 #7. Download VIPI
VIPI is a clean-looking template that has a simple design. It has a very special feature called fast loading which enables it to load a simpler version when a user using a slower connection. VIPI is super responsive, it is optimized for different types of devices which have different screen size. This responsive and SEO-ready template is designed by SoraTemplates.
#8. Download Sora Seo
Sora Seo is a smart and clean template that can be best suited for different personal blogs. It is a highly SEO-optimized theme with meta tags and an auto title generator which will help to rank faster on search engines. It's developed by SoraTemplates.
#9. Download Eva
Eva is a responsive template which mainly designed for fashion bloggers but with some customization, it comes to be used for any type of blog. It's a responsive design that has the ability to adjust template screen size with viewing screen size. This theme is designed by Way2Themes. It has some included widget which will show the latest social feed and display your social media profiles.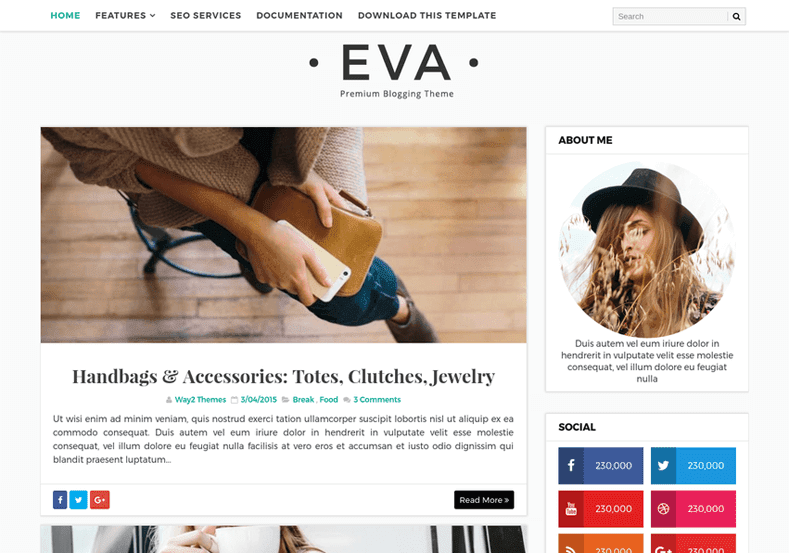 #10. Download SeoBoost
SeoBoost is another theme made by ThemeXpose. It's fully optimized for the latest SEO guidelines and standards. If you really wanna make your page super fast and suited for any searching guidelines then SeoBoost can be your choice. It scores 100 out of 100 in the Google Insight usability test.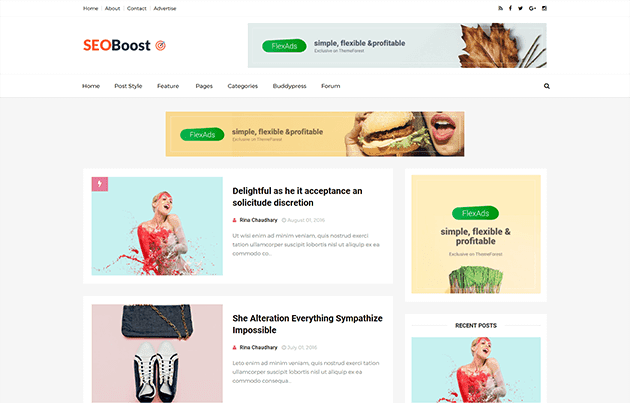 Those are 10 themes among them you can select anyone who will give your blog a new aesthetic value and a great performance. Those 10 themes are my personal choice If you have some other favorite let me know in the comments.
If you need any help regarding set up your new template let me know in the comments, I will happy to help you.
I would like to hear from you, tell me in the comments below if you have any queries or feedback. Thank you.